Nancy Youngblood Pottery

A woman of energy, inner strength and focus, Nancy is committed to her Tafoya family traditions, her own family, and her personal goals. She has met many of her goals as an innovator within the Tafoya pottery traditions. She continues to challenge herself and considers her best work still to come. Among the more than thirty well-known potters of her generation in the Tafoya family, Nancy is certainly one of the most outstanding, and is internationally acclaimed as a leading contemporary artist. She considers it a special privilege to carry on the Tafoya family traditions, but also a tremendous responsibility to meet the expectations of the audience familiar with the level of artistry of the proceeding generations.
| | |
| --- | --- |
| Polishing is a tedious stage of intense concentration, and the pot must be handled with extreme care due to its fragility before being fired. Nancy's need for perfection of polish allows for only three ribs of a melon jar to be polished in a three-hour stint. An even all-around polish is most difficult with the S-swirl ribs. Nancy estimates that a 64-ribbed bowl will require five or six twelve hour days to polish to her satisfaction. Her polishing stones include a smooth black stone called "Apache Tears", which belonged to great-grandmother Sarafina, and several small flat pointed stones whose shapes fit exactly into the deep ridges of her melon jars. Recessed areas and surfaces not to be polished are painted with a matte slip. | |
Follow the Firing Process with Nancy
on her "Swirled Melon Bowl".
Nancy has always wanted to be the best at what she does, yet after 25 years as an artist, when asked what is her best work, she replies "I haven't produced it yet. That's still to come."
| | |
| --- | --- |
| | Just as she expanded her repertoire of deeply carved motifs, Nancy has expanded the size and variety of shapes of her pots during the '90s with squat shapes, tall vases with stepped lids, elaborately swirled and fluted water jars, and bowls inspired by the shapes of Japanese lanterns. While imitators may be a flattering sign of success, they provide Nancy with a determination to challenge her abilities even further, and she is now experimenting with a long-held dream to create a 128 ribbed melon bowl. She has been quoted as saying "it takes three to four years to get really confident at making pottery, and it takes a lifetime to get really good at it." Also see The Old Ways |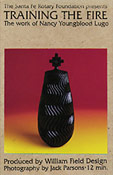 Information and Purchases:
For information regarding the studio and firing visits as well as the availability of pots, a limited edition poster, and copies of the video "Training the Fire/ The Work of Nancy Youngblood", Produced by William Field Design, Santa Fe, NM for the Santa Fe Rotary Foundation -
Call the studio: 505 466-1690.
Or write: Nancy Youngblood Inc.
Suite B-7, Box 188
7 Avenida Vista Grande
Santa Fe, NM 87505
email: [email protected]
Studio Visits and Firing Demonstrations
Nancy has held demonstrations on the firing process at Harvard University, Boston Massachusetts; Gilcrease Museum, Tulsa, Oklahoma; the Denver Museum of Natural History in Colorado; Colorado State University in Boulder, Colorado; The Indian Arts and Crafts Association in Kansas City, Missouri; Hockaday Prep, St. Mark's Prep in Dallas, Texas.
Watching a pot of Nancy's being formed, carved, polished, and fired following the traditional techniques of her Tafoya family is truly a learning experience. Visitors are welcome at Nancy's home studio by appointment. Visitors can also arrange to watch a firing at Santa Clara pueblo by appointment.
Call: 505 466-1690 for appointments.
Copyright © Nancy Youngblood Inc.