Nancy enrolled in studio art courses at the University of New Mexico in 1975 to study art. Although she was already gaining a reputation and a following among collectors as a unique miniaturist, carver, and innovative designer. After a year, with a heightened awareness of her creative spirit, Nancy knew to become an artist she had to devote all of her time to mastering her craft.
By 1976, at age 21, Nancy had her first major exhibition at Gallery 10 in Scottsdale, Arizona. In time, owner Lee Cohen was to become a caring mentor and good friend, and Nancy considers him to have had the greatest business influence on her career. From the beginning Lee made her feel that her work was special, and he respected her opinions as well as her talent. For the first time Nancy realized the significance of her work and that she could stand on her own as an artist. Their working relationship and friendship lasted for 19 years with Nancy's pots exhibited regularly at Gallery 10 in Scottsdale and Santa Fe with various shows in Beverly Hills, Ca. and New York City. Since his death in 1995, Nancy has marketed her own work.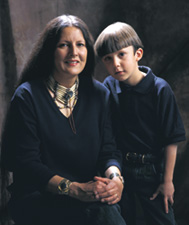 Nancy married Paul Cutler in 1979, a UNM medical student whom she had known since high school. His surgical residency in Kansas City took her away from home for five years. His long hours at the hospital gave her the time to concentrate on her work, not only to sell her pots to support them, but especially to focus on perfecting her techniques and executing her design ideas in clay. During the 70s and early 80s Nancy continued to make miniatures almost exclusively, and a sixteen-hour work day was the norm. While away from New Mexico Nancy took an extra seat on the airplane to fly her precious work back to Santa Clara to be fired in the traditional way. Not only were the miniatures easier to transport than large pots, they were less subject to breakage during the firing.
Nancy and Paul had a baby, Chris in 1989 and divorced in 1990. Nancy married George Lugo Jr. in 1993. They had two boys, Sergio and Joseph. They were divorced in 2002.
Nancy with Sergio pictured here.
Since the early 80s Nancy's work has moved up in scale. Her aim for perfection is even greater now, as evidenced in the precision of the ridges and carved designs and the incredible polish of the pots' surfaces. The shapes of her water jars, vases, with lids, and melon bowls reflect those she developed with her miniatures. They include innovation as well as traditional Tafoya forms. He earlier repertoire of Tafoya motifs has expanded to include designs inspired from experiences outside the Pueblo such as shells, nautilus, and thunderbird designs. Two thirds of the pots Nancy creates today are commissioned pieces for collectors.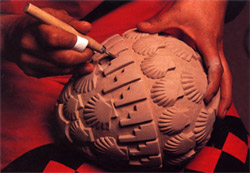 In those early years Nancy became a perfectionist carver and was very much driven. She varied her miniature shapes and carved more and more intricate pieces, taking her art to new, challenging levels. In the early days, as now, collectors gather in anticipation of her work. She has become well known for her S-shaped melon jars and the innovative way she explores her craft while keeping with the Santa Clara traditional form.
Obviously feeling compelled to work with her hands, and being surrounded by family and friends who were constantly making pottery, her inner knowing came to fruition and it was at that time that she'd realized she was indeed a creator. A creator of form. Some of her major influences that have affected her deeply are the works of Teresita Naranjo because she put so much carving on the piece, the delicate work of Grace Medicine Flower, and the boldness and strength of her grandmother Margaret Tafoya."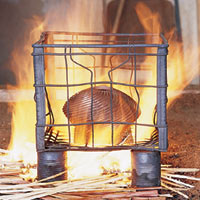 To this day Nancy, like her Grandmother Margaret, feels very strongly about the importance of preserving the traditional firing methods so that they are never forgotten. Prayer is integral to the process and Nancy believes the fire determines if a piece is meant to come out or not. Because her work has increased greatly in value she has taken precautionary measures by building a firing shed on the pueblo and only fires one pot at a time. (See Firing the Pot)
As Nancy reflects on the early days of her learning, the messages were clear: To be a potter was to uphold the Santa Clara tradition. To do it right was to embrace tradition using "the old ways."
Nancy settled into creating the deeply carved Santa Clara style of pottery which the Tafoya dynasty had pursued. The family strengths included the ability to make the technically-difficult large pieces, (such as the classicly-shaped urn storage vessels by Sara Fina and Margaret Tafoya) and the skills to achieve a mirror like polish on the pottery. The family matriarchs also refined their work, integrating of the shape of a piece and its deep-carved ornamentation.
The Santa Clara style of ornamenatation often took the form of a band around the widest part of a piece. The band contained a pueblo symbol such as a bear paw, an avanyu (the horned serpent of pueblo lore), lightening, or feathers. The works of the Tafoya family were typically table sized.



Santa Fe Indian Market 1975

Now after almost 29 years in her art, she says about her best work, "I haven't produced it yet. That's to come." Her vision is that of a 128 section melon jar on which she is currently working.

Working 12 to 16 hours a day over the years has made Nancy the artist that she is - consummate, uncopyable, and a creator of works that can be conservatively called outstanding .

From that first award at Gallup inter-tribal Ceremonial in 1972, Nancy has been a consistent award winner for 29 years. These include the most prestigious award for any Indian artist, "Best of Show" at the Santa Fe Indian Market in 1989, and the "Distinguished Artist Award" from the Santa Fe Rotary Foundation in 1997. This award is given to recognize "a living visual artist…who has achieved national distinction." (See Awards).

Nancy's work can be seen in the permanent collections of the Cleveland Museum of Art and The National Museum of Women in the Arts. She has been featured in numerous books on pottery, including Lee Cohen's Art of Clay, Timeless Pottery of the Southwest, Clear Light Publishers, 1993 and Susan Peterson's Pottery by American Indian Women, the Legacy of Generations, Abbeville Press, 1997. This book accompanied the distinguished show of the same name which opened at the National Museum of Women in the Arts in Washington, D.C. in October, 1997. (See Exhibits)
Since the early '80s Nancy's work has been featured in numerous magazine and newspaper articles. She has been interviewed for several documentaries, including "The Tafoya Family Pottery" (1983); CNN's "Earth Matters" (1993); and "The Legacy of Generations, Pottery by American Indian Women" (1998). A video "Training the Fire/The Work of Nancy Youngblood" was produced by William Field Design in 1997 for the Santa Fe Rotary Foundation.